Every driver must consider that on the road he is not only responsible for himself. The car (as well as other mechanical vehicles) is a means of increased danger. That is why the penalties are sometimes very severe.
Until this year, the amounts of fines for drivers in Poland have not changed for the last 26 years. If at that time, the fine of 500 zlotys was a quarter of the salary, today, according to statistics, it is only a tenth of the salary. This means that such a penalty is not significant for most drivers. And if it is not significant, it is not effective.
The penalty system in Poland is based on penalty points. A pecuniary penalty is a simplified form of penalty points that are used in specific cases (when caught red-handed or immediately after breaking the rules, or when the fact of rule breaking is documented). During one inspection one can "collect" 10 points. And 24 points means deprivation of driver's license. 20 points for drivers with up to one year of driving experience. You may check the number of penalty points online and at the police station.
Let's go back to the statistics. In 2020, there were 23,250 crashes on the roads, resulting in 2,491 deaths. The same statistics include another 382046 traffic accidents and 26463 injuries. Poland is at the top of the "anti-statistics" for accidents in the European Union. In this situation, the government has decided to fight against violators with the pecuniary penalties. Further in the article let's see what punishment will follow for certain violations. You can read the full list in the decree of December 30, 2021.
Penalty Point Accrual
Until recently, the maximum number of points one could receive for a single infraction was 10. Starting in September 2022, that number will increase to 15. Below are the offenses for which you can receive the maximum number of penalty points:
Exceeding the legal speed limit by 50 km/h or more in and out of populated areas;
Driving under the influence of alcohol or drugs;
Overtaking at or just before a crosswalk;
Refusing to stop to check documents and running away;
Creating an emergency situation;
Detouring a vehicle that has stopped to pass a pedestrian;
Failure to pass a pedestrian at or entering a crosswalk.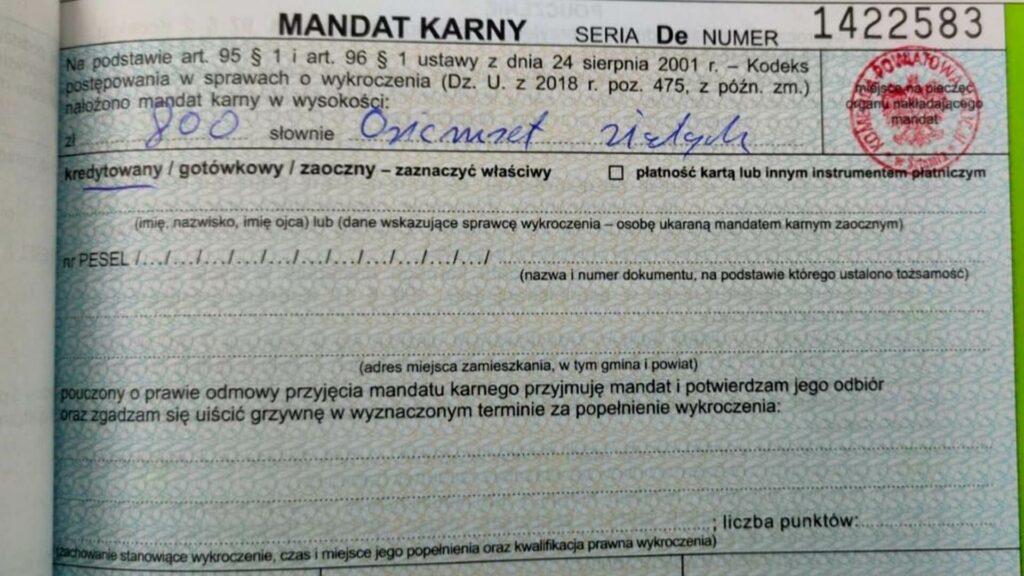 Speeding
One of the most common violations is obviously speeding. Everyone is well aware that the speed limit must be observed. After all, speed is often the key factor in fatal accidents. The table below shows the amount of fines that are mandatory from the beginning of 2022.
| | |
| --- | --- |
| Speeding | Amount of fine |
| Up to 10 km/h | 50 PLN |
| 11 to 15 km/h | 100 PLN |
| 16 to 20 km/h | 200 PLN |
| 21 to 25 km/h | 300 PLN |
| 26 to 30 km/h | 400 PLN |
| 31 to 40 km/h | 800 PLN |
| 41 to 50 km/h | 1000 PLN |
| 51 to 60 km/h | 1500 PLN |
| 61 to 70 km/h | 2000 PLN |
| from 70 km/h | 2500 PLN |
Other frequent offenses
In addition to speeding, there are a host of other offenses on the road. Below is a table of other common offenses and penalty amounts.
| | |
| --- | --- |
| Offence | Amount of fine |
| Not using seat belts while driving | 100 PLN |
| Using a phone while driving | 500 PLN |
| Failure to comply with the ban on overtaking | 1000 PLN |
| Overtaking at a road crossing | 1500 PLN |
| Driving without a driver's license | 1500 PLN |
| Avoiding a lowered barrier at a road crossing | 2000 PLN |
| Carriage of a child without a child safety seat | 300 PLN |
| Making a U-turn in tunnels, on bridges or one-way roads | 200 PLN |
Court-ordered fines for misdemeanors
f you do not agree with the fine and refuse to pay it, the situation with the offense will be considered by the court. This is not always appropriate. In some cases, it may be cheaper to pay the fine and get the penalty points because the police officer may impose a fine of 20 to 500 PLN (up to 1000 PLN for more than one infraction), while the fine imposed by a local court may be as high as 5000 PLN. It only makes sense to waive the fine if you are sure of your innocence. Sometimes, drivers choose to go to court when they know they are approaching the fine point limit in order to avoid having their license revoked. By the time the city court starts the case process, some penalty points may have time to go to zero.
With the beginning of 2022, the amounts of fines for minor offenses imposed by the courts have also increased significantly. Below is a table with more detailed information.
| | |
| --- | --- |
| Offence | Amount of fine |
| Driving under the influence of alcohol | Up to 30 000 PLN |
| Inciting an accident | Up to 30 000 PLN |
| Speeding | Up to 30 000 PLN |
| Blocking traffic | Up to 5 000 PLN |
| Failure to comply with signs, traffic lights and regulators | Up to 30 000 PLN |
| Not stopping for a document check on the road | Up to 30 000 PLN |
| Failure to obey an overtaking ban | Up to 30 000 PLN |
| Driving without a driving licence | Up to 30 000 PLN |
Time limit for penalty points
As has already been mentioned, a limit of penalty points is 20. And you may collect them, in theory, for 2 times (maximum 10 points for one "incident"). After collecting too many points, you may be disqualified for 3 months. But it's not all so bad. Penalty points have an expiry date. They expire after 2 years from the date of imposition.
Driver license cancellation
What offenses may result in a 3-month suspended license? For exceeding the speed limit by 50 km/h, for carrying 3 persons more than the permitted number of passengers.
A 1 year license suspension may be imposed if the driver has committed a crime.
A 3-year or more penalty may be imposed for driving under the influence of alcohol and fleeing the scene of an accident.
Types of fines based on payment method
There are three types of fines, according to the law:
Cash – payable on the spot (despite the name, you can also pay by card if there is a terminal at the patrol). It is most often issued to foreigners and all those who are not permanently residing in Poland.
A credit fine is the most common type of fine. After receiving the ticket you have 7 days to settle the debt.
An absentee fine – this type of fine is issued when the person responsible for the "triumph of the law" is not present on the spot. As an example, a parking ticket. In this case you also have 7 days to pay.
Where and how to pay the fine?
There are also several ways to pay the fine.
On the spot – in cash or by card (again, if you have a terminal).
An online transfer is the most convenient (if applicable to the situation) form of payment. It is enough to have access to Internet banking, select tax transfer (przelew skarbowy), select Penalties (Mandaty) as the main payment identifier and select … Opole in the field of the state transfer recipient authority. Since 2016 all fines are paid to a single account. This has been done to avoid confusion when paying, but for the uninitiated it can be extremely confusing.
Transferring 'offline', i.e. to a post office or bank branch, is the same as in the previous case. The only difference is that many banks charge a fee.
How to avoid a fine?
It's simple and obvious: obey traffic regulations