There are a lot of cool initiatives going on in Poland and one of them, "To Good To Go", aims to literally save food thrown away by shops and restaurants. It's no secret that shops, restaurants and cafes often throw away unsold leftovers. Modern technology can easily solve this problem and "To good to go" is a great example. I have tested this app and will share with you how it was, how profitable (or not) it is and what the pitfalls are.
The main feature: you buy a bag of food from a cafe or shop, but you never know what's inside, a kind of element of surprise.
Install the app
I had trouble installing the app, I couldn't download it (I have iOS 15), but when I changed the country in my Apple ID to Poland, everything started working fine. To download the app (iOS or Android), just go to the website and download it.
Next you have a short registration process, it's easy to sign up, in the app itself you choose the desired country, go through a short tutorial and you're welcome.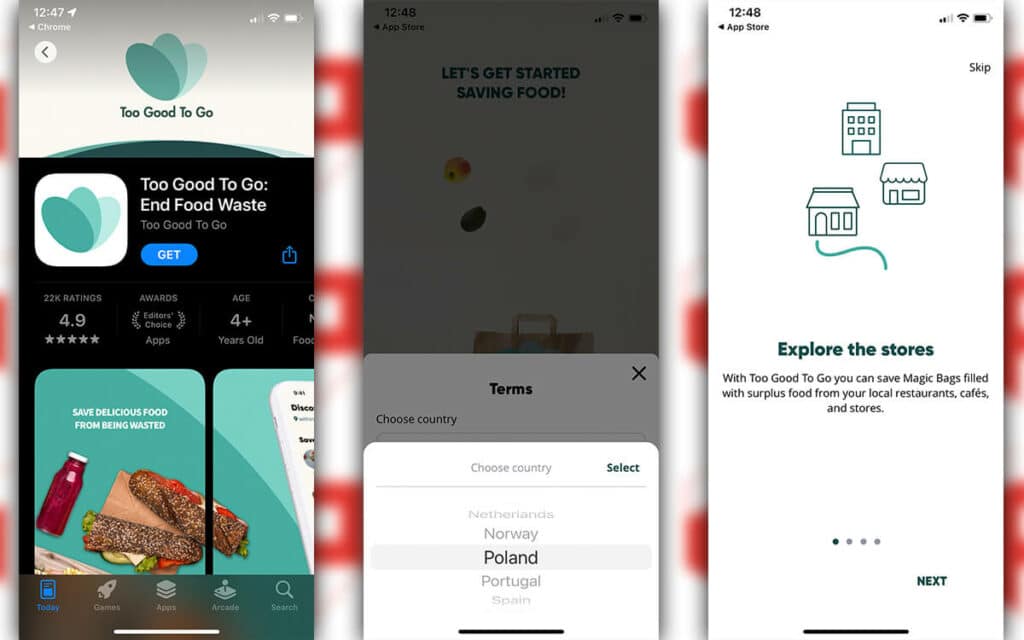 I was upset at first because there were no active offers after registration. And then I realized that this is probably due to the fact that it was a Sunday off (list of working Sundays see here). In the evening there were some offers for tomorrow and I chose a Starbucks for 13,85 PLN, located in a shopping center near my home. According to the terms, I had to pick up my order between 21:00 and 22:00. I paid for it in the app (you can pay with Apple Pay or Blik). After payment, my order from Starbucks was displayed in the orders. Also, there was a code which I had to use while picking up my order.
I recommend not thinking too long about your order, an order from North Fish flew "right out from under my nose", I can guess why (their food is pricey and delicious).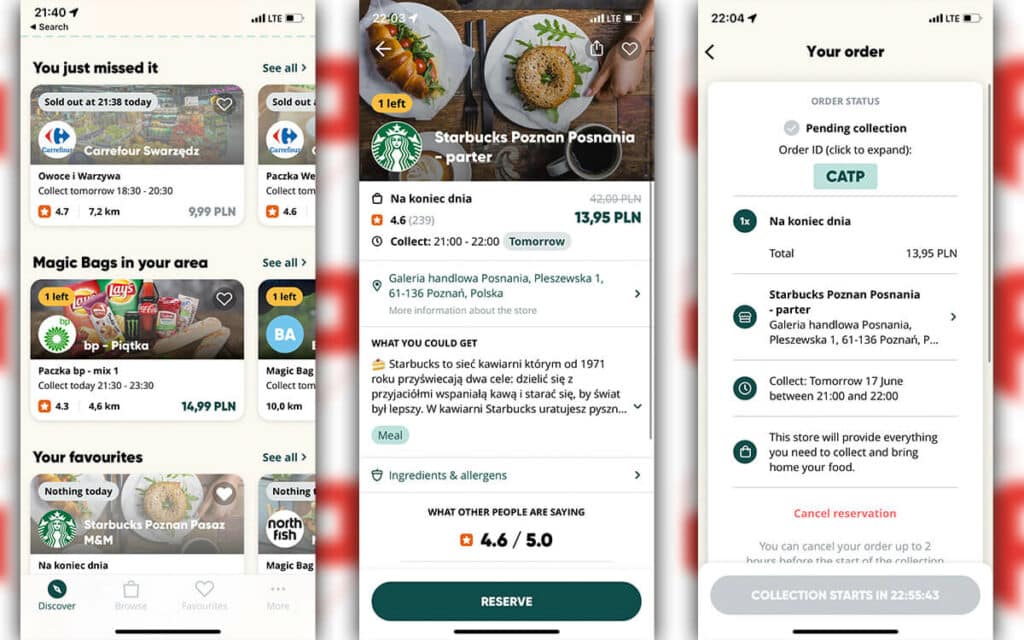 The next day I went to Starbucks by 9pm, got there even before 9pm, though I was told at the checkout that they can't register this purchase before the appointed time, so keep that in mind. At 9:05pm I picked up my bag and went home, as the girl at the cash register told me, you never know what will be inside, it might just be sweet dishes, it might be "canapes". By the way, the staff is very friendly, I didn't get the feeling that there was something wrong with my order. The app has its own rating system, which includes indicators such as the friendliness of the staff, the amount of food in the set, the 'goodies'.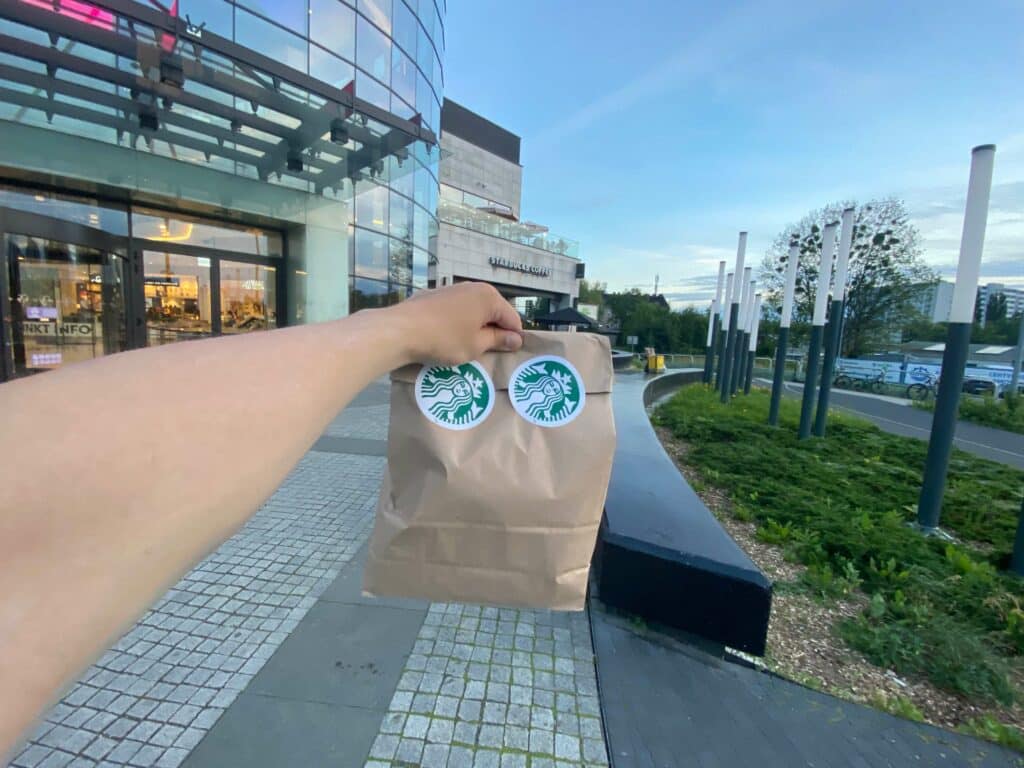 So, what was waiting for me inside? Inside were 3 doughnuts, 2 cupcakes and a matcha flavored cake. One doughnut was a little wrinkled, I think that's why it went into "To good to go". Talking about the price, a single piece of cake at Starbucks costs 15 PLN. In other words, it was worth it financially, I got the dessert from Starbucks for less than it was worth. To be honest, the only drawback is a lot of sweets, because I don't eat so much.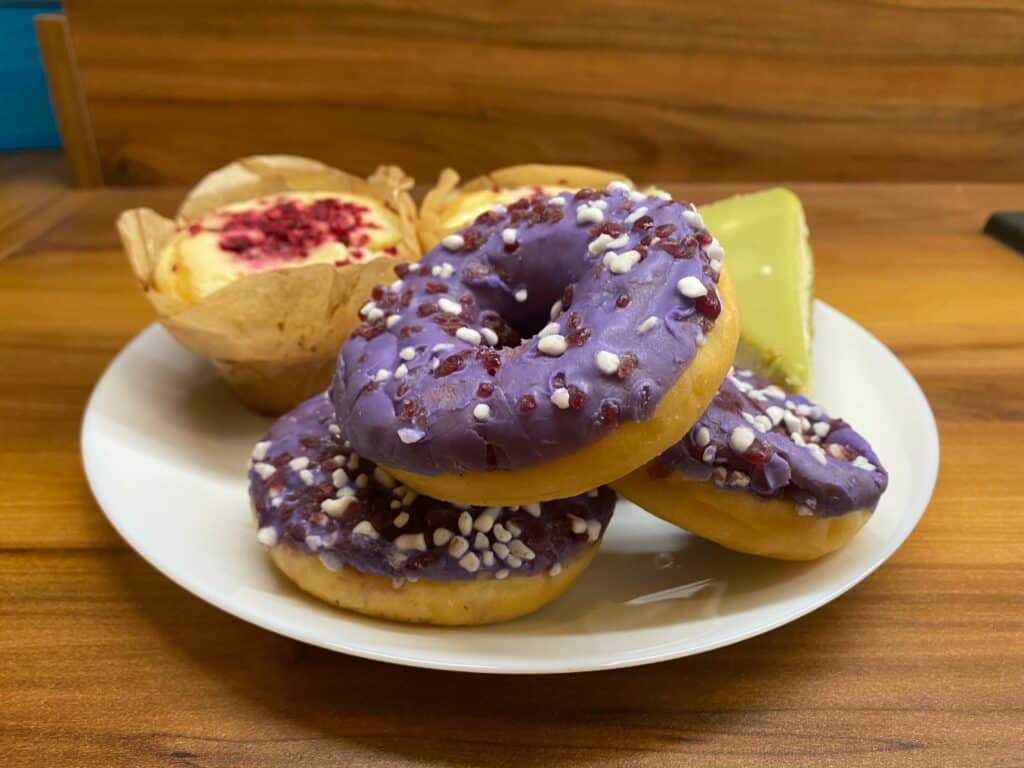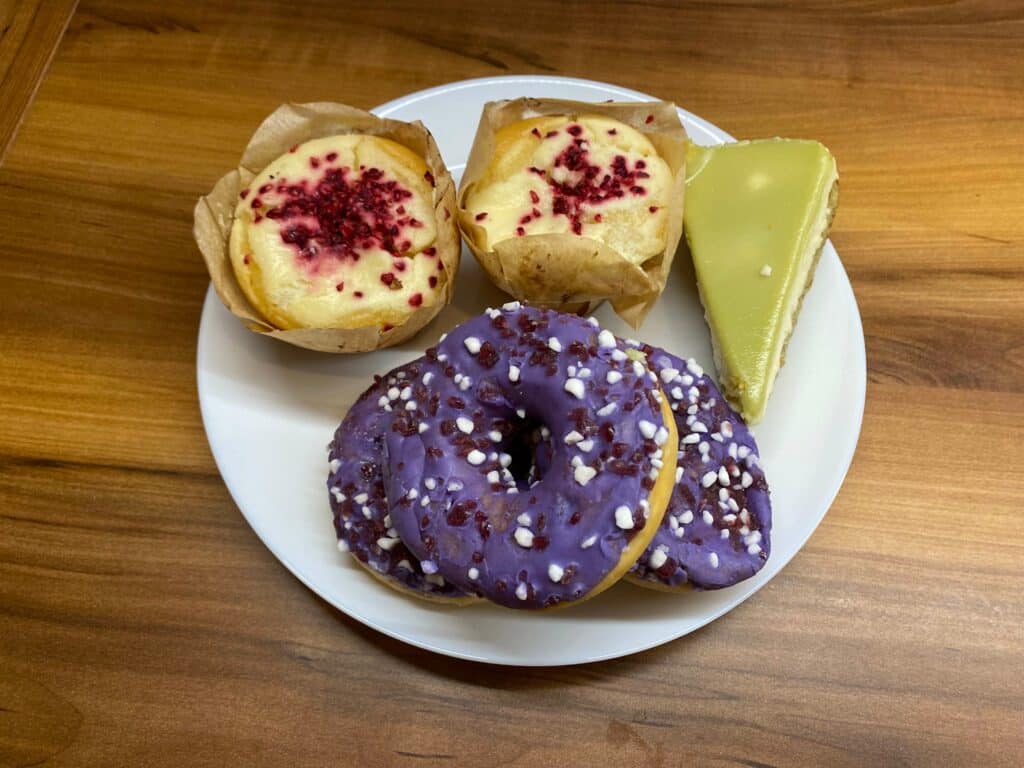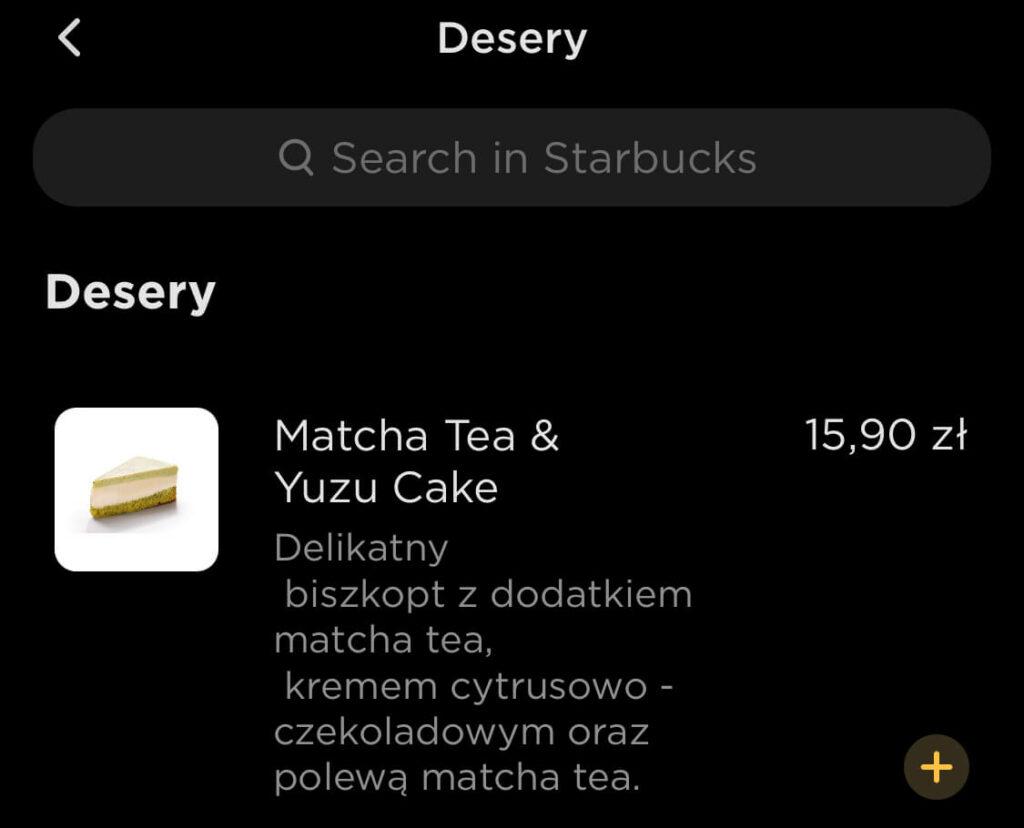 I liked it and decided to try to catch an order without so much sweetness and picked up a bag from Carrefour in the same shopping center. I picked it up in the customer service department. It was even cheaper – 9.99 PLN. And I wasn't so lucky with it, I got: 2 fennels, sprouted wheat, a bag of lettuce, a gingerbread man and a piece of "Drunken Cherry" cake. I think in terms of value the set paid off, but the combination is a bit odd (in my mind), although I'm sure after Starbucks I wanted more regular food than sweet.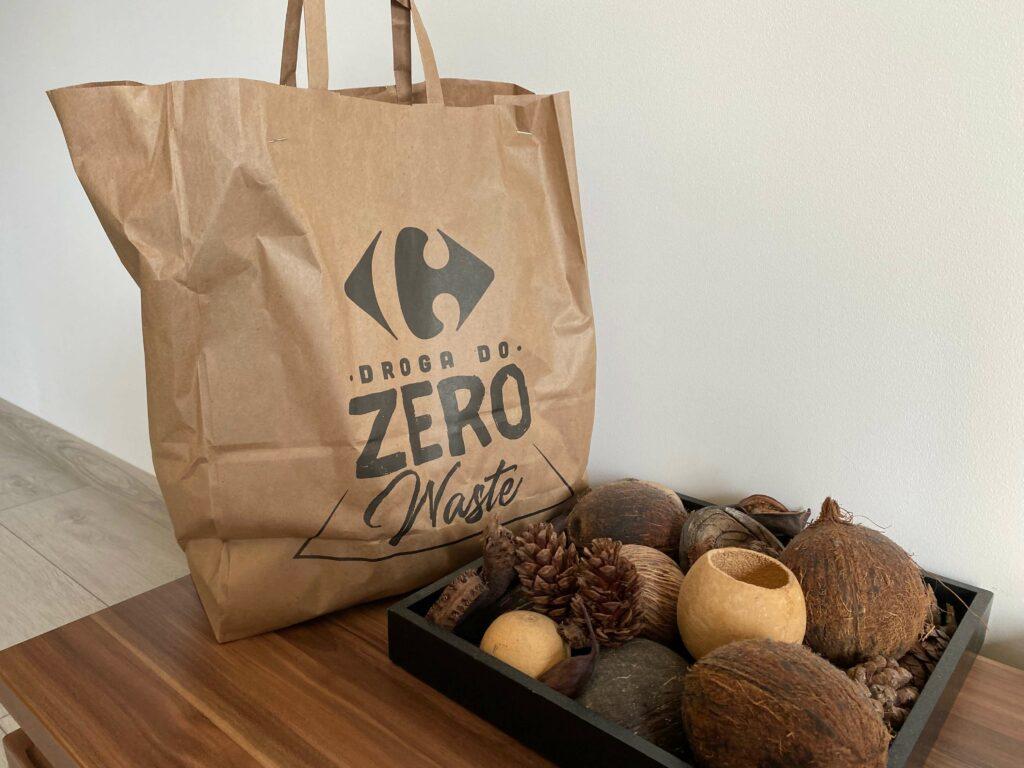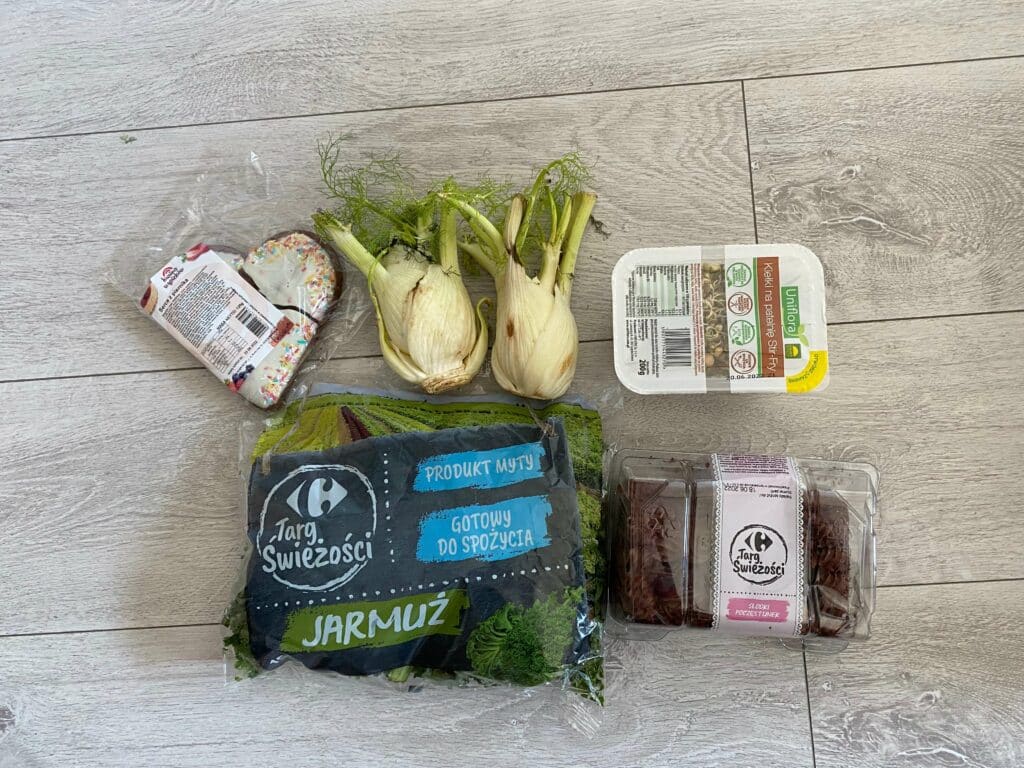 Conclusions
I think I'm going to use this app once a week (I'll show it on Instagram) and buy food from places I'd order from anyway. With "To good to go" I'll do it cheaper and also I'll save food that otherwise would be thrown away.